26/10/2018 - Đăng bởi : Karen Nguyen
Nordson's Unity Basic Series redefines tabletop automation
Nordson Unity Basic Series system is specifically designed and configured for precise hot melt dispensing using Nordson Unity dispensing systems.
An easy-to-use Teach Pendant or a PC-based vision-guided teaching system makes the Unity Basic Series system simple and intuitive to set up and program. True three-dimensional motion control allows easy programming of dots, lines, circles, arcs, and compound arcs.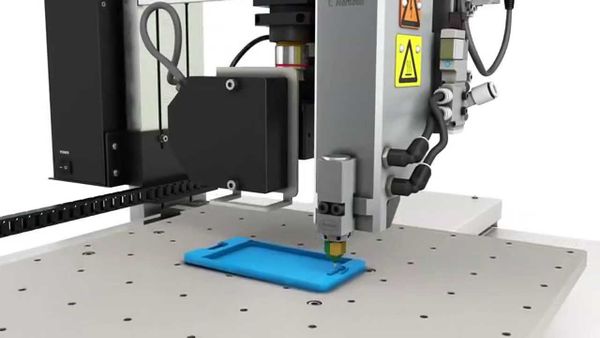 Nordson's Automated Dispensing Systems
A variety of platform sizes makes them an ideal solution for batch processing of critical hot melt dispensing applications.
The Unity Basic Series system can work either as a standalone dispensing system or as a key station that is easily integrated into automated production lines.
Nordson machine pairing with Technomelt adhesives in providing masking for PCB
See more: Henkel's PCB (Printed Circuit Board) Assembly Materials
FEATURES
- Simplified setup and programming via intuitive icon-based Teach Pendant
- Optional simple camera and UNITYMotion software make setup and programming intuitive
- X/Y/Z tip location alignment sensor available
- Reinforced X axis (on Unity 4X) increases system rigidity and improved accuracy
- Upgradable to enhanced CCD vision camera with vision based bead compensation
- On-screen preview of the dispensing path facilitates programming
- Easy-to-use.dxf file conversion to program path
BENEFITS
- Easy-to-use visual programming means operators learn quickly
- Faster cycle and batch times
- Easy integration into any manufacturing operation
- Reduced production, material and ownership costs
- Automated tip alignment saves reprogramming time