14/02/2020 - Đăng bởi : Karen Nguyen
For a long time, tesa has been known as a worldwide famous tape brand. Tesa's superior products are applied in a variety of industries, including consumer, electronics, automotive, advertising, printing, ...
Creative Engineering is proud to accompany tesa for the past 20 years in the field of printing tape. Today, Creative Engineering is delighted to present a breakthrough product - a two-in-one solution - tesa Twinlock Self-Adhesive Laminated Tube in the flexographic industry
tesa - a provider of two solutions for a single application in the printing industry
Outstanding from the familiar printed adhesive tapes, tesa Twinlock®'s unique idea is to provide sustainable and reusable sheeting solutions for consistently high and cost-effective print jobs.
Structure
- Base or cylinder cage from customer's preferred supply unit.
- Polyurethane foam (PU) layer on top of the base tube. PU foam is coated with a special polymer layer that has a fixed adhesive retention feature. When handled with proper cleaning and handling procedures, the number of times tesa Twinlock® can be used is infinite.
- Three levels of hardness: soft, medium and hard foam to suit customers' different requirements
- Four times the thickness of regular printed adhesive tape.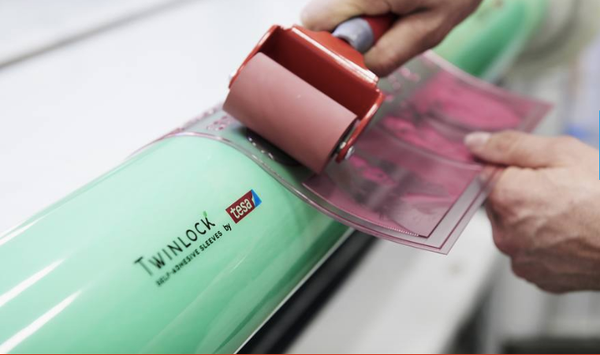 Benefit of Twinlock
Print quality
- tesa Twinlock delivers consistent print quality, due to its open grainy porous texture
- Strict diameter tolerances for accurate print quality
- Laser telescopic measurement technology, meet the smallest requirements of customers.
High speed printing
- Print quality is stable and durable without adjustments
- Great alignment
Increased efficiency in the process
- The reusability of the self-adhesive telescopic tube enables endless operability. Only need to repaint when physically damaged with basic crust => Fast return on investment
- Lower operating costs
- Reduce carbon footprint
- Estimating input production costs more accurately